Parts and Accessories
Basant
Pins and Needles
The Steel Needles and Pins are available in various taper profiles, pin shapes and metallurgy in plain or keyed type as per requirement and original equipment manufacturer's standards. We make pins for textile and non-textile applications.
Steel Pins and Needles are produced with precise dimensions, fine tip profiles, uniform heat treatment, mirror finishing.
Alloy steel and stainless steel Pins and Needles also available for applications requiring high wear resistance and non-corrosive properties.
Diameter: From 0.30mm to 16mm
Length: From 2mm to 160mm
Pinned Lags in aluminum or compressed laminated wood of all types. Pin metallurgy, tip profile and heat treatment designed for long life and excellent fibre opening.
Available for all leading international brands of machines for upto 2000mm wide cylinders. All pin patterns, pin sizes and pin angles, all lengths – we also offer custom pin patterns.
Repinning of aluminum and wooden lags done using specialized equipment.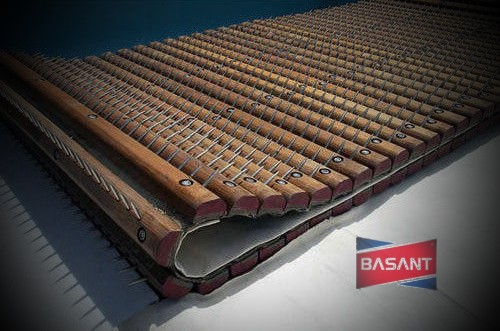 Basant
Plain and Spike Lattice
Wooden and Aluminium Lattices using the best quality pins, compressed laminated wood, riveted or bolted, sandwiched belts, reinforced canvas or synthetic aprons, to ensure extra long and trouble free performance.
With 800 to 1600 mm width, upto 6000 mm length and 3 to 12 tpsi pin density.
We also repair aluminium and wooden lattices.